Posted by Chris Treadway on Mar 1st 2019
In celebrating 15 years on Stockton Avenue, the Jenny K. Gifts shop is also bucking a national trend by going from online startup to mom-and-pop, brick-and-mortar business. Their secret?
"She has the most friendly business in town," said a woman bringing her father to the Jenny K. gift shop (www.jennyk.com) on a cold but sunny Friday in February.
Married entrepreneurs Jen Komaromi and Kevin O'Neal specialize in friendly and neighborly at their storefronts on Stockton Avenue, which include the gift shop, Well Grounded Tea & Coffee Bar (www.well-grounded.com), and their latest venture, a co-working space.
The gift shop opened on Valentine's Day in 2004 and just celebrated its 15th anniversary. The coffee shop began in January 2005. All three are in the same building, with other storefronts sandwiched in between.
"I can't believe it," Komaromi said looking back 15 years. "I don't know if I ever thought about it. We never thought of failure as an option. It just evolved. Time goes by very fast."
So fast that the couple's two children grew up in the coffee shop starting as babies. Jack, now 12, and Evie, almost 9, now know the routine."Both have been here since they were three weeks old," Komaromi said. "They know how to ring up on the register, clean dishes. They're my sales assistants.
"We feel really blessed to create a life for ourselves that enables us to spend time with our kids, instead of having to commute and send them to daycare."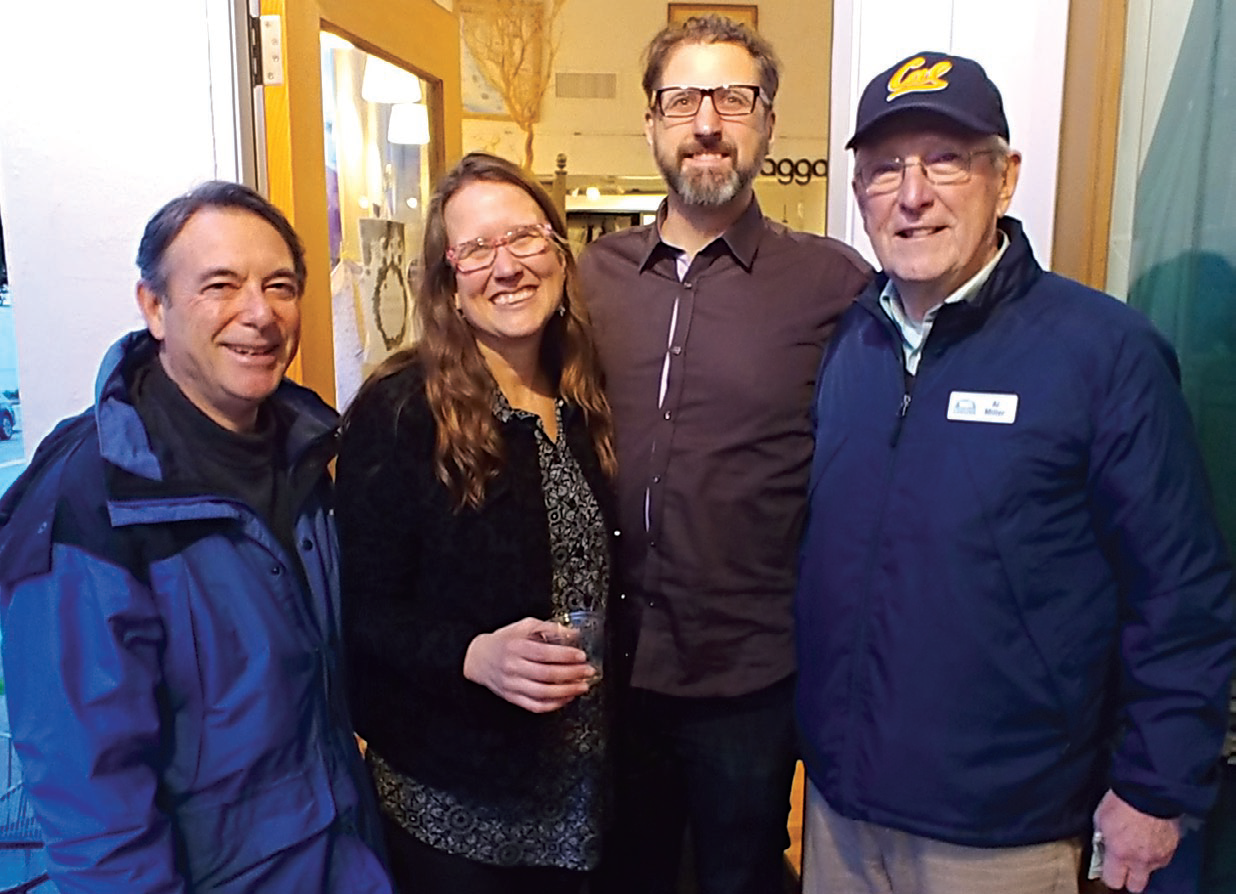 Supervisor John Gioia congratulates Jenny K. along with Kevin O'Neal and Al Miller at a February 9th anniversary party marking 15 years doing business on El Cerrito's Stockton Avenue.
The family feel also extends to the customers. "At the coffee shop we have what we refer to as 'coffee babies,'" Komaromi said, referring to dads who would bring their tots with them on weekends. "They're all freshmen in high school now."
The success of the enterprises might seem unlikely in an age when online commerce is supposed to be eroding so-called "brick-and-mortar" businesses. Even more so because the gift shop originated as an online enterprise that was crowding the couple's home.
Komaromi put an ad on Craigslist seeking office space or a storefront and the owner of the Stockton Avenue building responded letting her know he had a vacancy.
The couple took the plunge and opened Jenny K., a small gift shop in the space at 6927 Stockton. When a computer repair shop vacated the space next door, the couple thought a coffee shop would be a complementary business and unsuccessfully tried to find people interested in opening one before jumping into another new venture themselves.
Longtime resident and Stege Sanitary District board member Al Miller was the first customer in the door that day and he recalled that "Everyone was scurrying around. So I asked if there was anything I could do to help."
Miller said he was dispatched to Semifreddi's to pick up pastry that hadn't been delivered yet.